By Arduino Team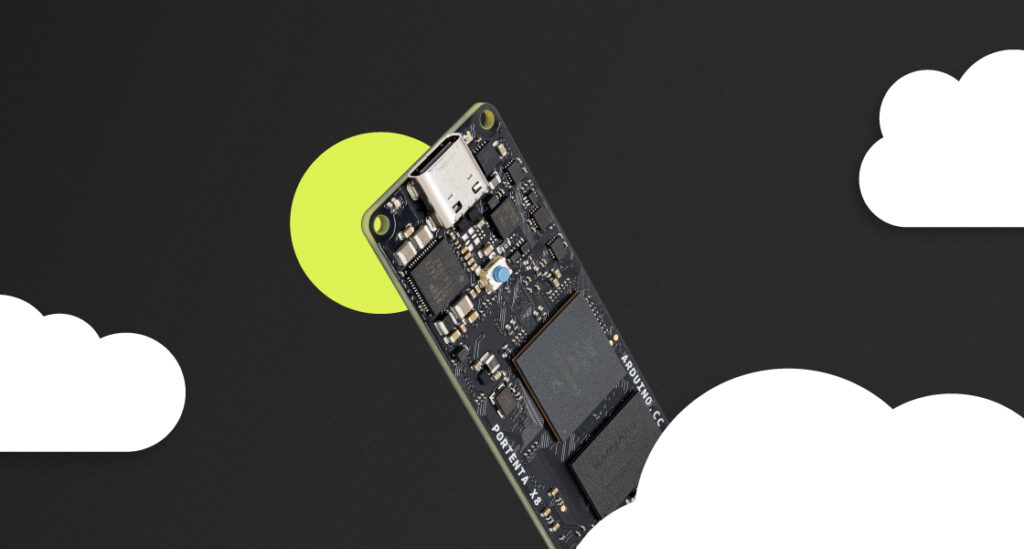 You may have heard about Portenta X8 for its flexibility of usage of Linux combined with real-time applications through the Arduino environment.
But now, a new set of features have been added to Portenta X8 thanks to its brand-new Arduino Python container. Update your board with the latest image (here is a tutorial showing how to do so) and start exploiting a wide range of unique functionalities: 
Set up your Portenta X8 in just a couple of clicks with the full revised out-of-the-box experience
Self-provision your boards in the Arduino Cloud keeping security in mind
Gather real-time and historical data in one place and display them on widget-based dashboards
Manage and monitor your fleet of devices from anywhere together with all your team
Keep your X8 up-to-date with secure OTA updates with the Portenta X8 Board Manager add-on
It is now time to learn more about the incredible number of projects Portenta X8 can help you build up.
All Portenta X8 settings in one place
Connect your Portenta X8 in the browser and start setting it up in no time through the dedicated out-of-the-box experience.
Connect your X8 to the Wi-Fi® in just a couple of clicks and start leveraging all its multiple features: 
1. Shell. Communicate to your X8 through a dedicated Shell running in a Python-Alpine Container. Explore multiple examples and easily develop your Python applications.
2. Arduino Cloud. Always thought about connecting your X8 to the Cloud? Wait no more. Create an Arduino Cloud account and enjoy this new feature. With the out-of-the-box experience, your Portenta X8 can be securely self-provisioned in the Arduino IoT Cloud, you just need to create API keys and the Python container running on X8 will do the rest. When provisioned, you can start directly interacting with an example Thing and Dashboard that will be automatically generated for you to guide you step-by-step in this new journey.
3. Portenta X8 Manager. Securely monitor your fleets of Portenta X8 by purchasing the Portenta X8 Manager:
Securely maintain your Linux distribution 
Deploy and update applications packaged into containers
Secure over-the-air updates to target Portenta X8 devices/fleets
With the new out-of-the-box experience, the Portenta X8 now has a full suite of tools available for every kind of user. 
Create amazing dashboards with Portenta X8
Making Portenta X8 compatible with the Arduino Cloud means opening a wide range of new applications. 
This compatibility is guaranteed by a brand-new Python container. Through Arduino Cloud APIs, the Python container ensures full interaction and simple porting of any Python-developed application in the Cloud. 
Thus, connect your Portenta X8 with external sensors or other peripheral devices and visualize their data in widget-based dashboards. Push button, Messenger, Scheduler, and Chart are just a few of the many widgets you can select to build your ultimate control center.
Do you have multiple boards or sensors connected? It's easy, the Arduino Cloud is able to manage data coming from different boards/things in just one dashboard.
In addition, a preconfigured dashboard allows you to monitor the health and usage of your Portenta X8. The diagnostics of your fleets has never been easier.
And remember, you can monitor your dashboards anywhere, anytime. Use your dashboards on the go, and control projects from your smartphone using the free IoT Remote app.
Manage your Portenta X8 from anywhere
You probably already know that you can use the Arduino Cloud to have full control over your fleets of compatible devices, including Arduino, ESP32, and ESP8266 boards. 
Filter and Group your devices according to multiple parameters, such as name, type, customizable tags, etc., and monitor their status whenever you like. 
Looking for the Portenta X8? Just search for it in the search bar and you will be able to check which Thing and dashboard are assigned to it. 
If you would like to be sure that your Portenta X8 is always up-to-date, start using it by subscribing to the dedicated tool called Portenta X8 Board Manager.
This add-on enables any user to receive constant Linux OS updates from Arduino, not only for Linux image, but also for all the containers developed and updatable over time. So, if you would like to keep track of the status of your full Portenta X8 fleet and perform secure remote OTA updates, this is the perfect solution for you. 
Try it now!
Update your Portenta X8 and get started with the Arduino Cloud and associated documentation.
The post Portenta X8 in Arduino IoT Cloud appeared first on Arduino Blog.
Read more here:: blog.arduino.cc/feed/