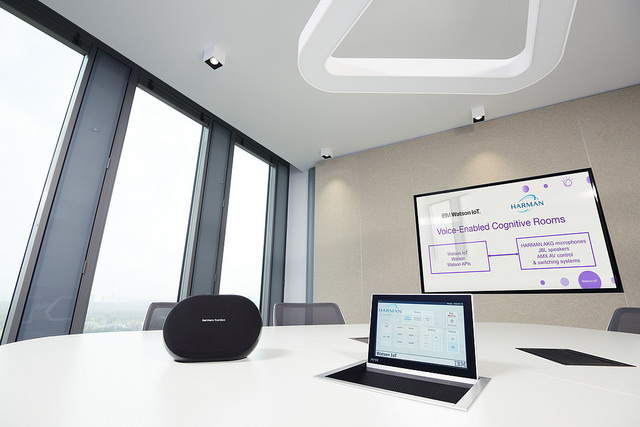 IBM's Watson Internet of Things (IoT) unit has teamed with audio giant Harman's Professional Solutions group to create an adaptive artificial intelligence service that can act as an "in-room cognitive concierge." In less tech-jargon, that's an AI able to respond to voice commands and questions based specifically on the context of the room its sensor is located in. The technology is currently being demonstrated as a cognitive conference room assistant, and it's already in use as a patient concierge in hospital rooms. Soon, this cognitive room capability could find its way into hotel rooms, cruise ship cabins, and other corporate spaces.
Called Voice-Enabled Cognitive Rooms, the technology uses IBM's Watson IoT application programming interfaces and cognitive computing service paired with Harman AKG microphones, JBL speakers, and control and switching systems from Harman subsidiary AMX. Similar technologies are already being embedded in Harman's consumer devices, including sound bars and alarm clocks, but these latest developments are opening up the system to integration with corporate information systems and building controls.
Using natural language voice commands, the system can be used to control conference room equipment, set up videoconferences, launch presentations, and adjust lighting. The commands are sent to the Watson IoT cloud service and then relayed back to systems in the room as software commands. As the system learns the preferences of each person that uses it, it can automatically adjust the room's system to their preferences.
Read 4 remaining paragraphs | Comments
Read more here:: feeds.arstechnica.com/arstechnica/index?format=xml