By jbly
President and CEO of Incognito, Stephane Bourque, is looking find out what strategies communication service providers are using to transition to IPv6 and needs your help to answer a few questions about your IPv6-readiness.
Guest blog post by Stephane Bourque, President and CEO of
The transition to IPv6 is essential for all businesses. At Incognito, we have embraced IPv6 on our internal networks and our website to prepare for an IPv6 future. When we made our website IPv6 ready in 2011, only a fraction of websites could be reached over IPv6, but we knew content was going to be a significant driver in the transition. So we enabled IPv6-support at the World IPv6 Launch Day in 2011. Our solutions already supported IPv6, so we knew we had to practice what we preach. It hasn't been a quick process, but we look forward to being part of an IPv6 world.
Whether you are IPv6 ready or not, all communication service providers are invited to share your experiences and plans in the IPv6 Readiness in the Communication Service Provider Industry survey.
Stephane Bourque is the technological inspiration behind Incognito's provisioning solutions. As CEO, Stephane has championed the development of high performance, multi-platform solutions that help service providers increase margins and reduce network upkeep.
Originally from Montreal, Canada, and educated at Concordia University, Stephane applied his computer engineering background at Banyan Systems to design enterprise network management systems for Fortune 1000 companies like Bell Canada.
The post Are Service Providers Ready for IPv6? appeared first on Team ARIN.
Read more here:: teamarin.net/feed/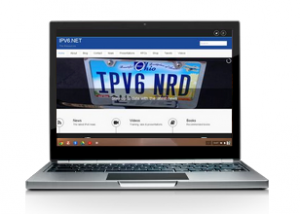 It was much needed. Especially now that Google ranks sites based on how well they do on mobile devices. Time for a major overhaul of our website. We've moved it from a way too old Joomla setup to state of the art WordPress site. Joomla appears to be dying slowly anyway. It's much faster and completely responsive which means it will automatically adjust its layout to smaller mobile screens. Very cool.
At the same time we have removed some of the less popular parts like the forums. They were being used by spammers mostly. And we don't like those.. We have improved the #ipv6 twitter stream and added a shop where you can find the coolest t-shirts and other IPv6 related things like mugs and stickers. There's no place like ::1, right? We have partnered with Zazzle for this so get yourself one of those cool shirts today!
We've also improved the book shop so you will be automatically directed to your local Amazon site for all your IPv6 purchases. We have also added a selection of IoT (Internet of Things) books since this subject is highly linked to IPv6.
Enjoy!