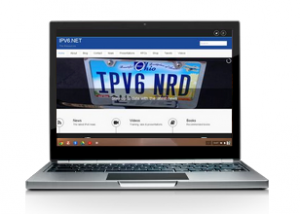 It was much needed. Especially now that Google ranks sites based on how well they do on mobile devices. Time for a major overhaul of our website. We've moved it from a way too old Joomla setup to state of the art WordPress site. Joomla appears to be dying slowly anyway. It's much faster and completely responsive which means it will automatically adjust its layout to smaller mobile screens. Very cool.
At the same time we have removed some of the less popular parts like the forums. They were being used by spammers mostly. And we don't like those.. We have improved the #ipv6 twitter stream and added a shop where you can find the coolest t-shirts and other IPv6 related things like mugs and stickers. There's no place like ::1, right? We have partnered with Zazzle for this so get yourself one of those cool shirts today!
We've also improved the book shop so you will be automatically directed to your local Amazon site for all your IPv6 purchases. We have also added a selection of IoT (Internet of Things) books since this subject is highly linked to IPv6.
Enjoy!